Fatigue influence and management in tennis
6 km/h
DECREASE IN BALL SPEED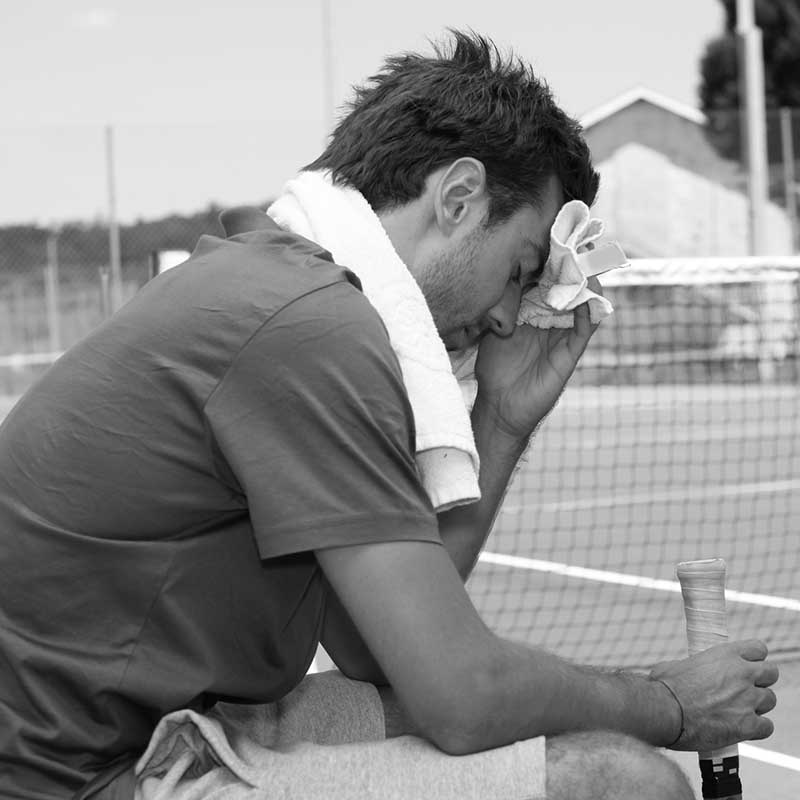 Coaches and players often notice that the quality of strokes, movements and tactical choices tends to deteriorate with the onset of fatigue during prolonged tennis matches. While there is a consensus on the importance of fatigue in tennis and its influence on performance and the outcome of a match, its effect on joint loadings and overuse joint injury risks remains poorly understood. For coaches, sports doctors and biomechanists, the amount of practice and muscular fatigue significantly increase the risk of shoulder and elbow injuries. Our research has shown that muscular fatigue reduces shoulder muscle activation, degrades serving technique, reduces joint amplitude and increases the risk of injury.
In competitive players (regional level), a 3-hour tennis match strains the upper and lower limb muscles. For the serve, this results in :

reduced ball speed (-6.5 km/h)

decreased ball-impact height (-4 cm)

decreased leg flexion (-5°) and maximal velocity of knee extension (-13%)

reduced maximal velocities of trunk, shoulder, elbow and wrist rotations (-5 to -14%)

increased the rate of perceived exertion

decrased passive shoulder range of motions

increased shoulder injury risks
During long matches played by professional players at Grand Slam tournaments in 2014:

ball speed and % of points won on 1st and 2nd serves decrease significantly in the 5th set among losers

whereas these parameters increased or remained stable for the winners in the final set.

in the 1st set, there is no difference in ball speed or % of points won on serve between the 2 opponents.

in the 5th set, there is an average difference in 1st ball speed of around 5 km/h between the future winners and losers

in the 5th set, the future winners won more points on their 1st (+13%) and 2nd serves (+27%) than their opponents
i
Identification of serve pacing strategies during five-set tennis matches
i
Influence of a prolonged tennis match play on serve biomechanics
i
Influence of a prolonged tennis match play on shoulder ranges of motion
Identification of serve pacing strategies during five-set tennis matches
C. Martin, B. Bideau, P. Touzard, R. Kulpa. « Identification of serve pacing strategies during five-set tennis matches », International Journal of Sports Science & Coaching, 14(1), 2019
Influence of a prolonged tennis match play on serve biomechanics
C. Martin, B. Bideau, P. Delamarche, R. Kulpa. « Influence of a prolonged tennis match play on serve biomechanics », PlosOne, 2016
Influence of a prolonged tennis match play on shoulder ranges of motion
C. Martin, B. Bideau, P. Delamarche, R. Kulpa. « Influence of a prolonged tennis match play on shoulder ranges of motion », American Journal of Sports Medicine, 2016